African violets have long been the favorite of all houseplants. Their seasonless blooming adds beauty to our lives and their ease of care make growing them rewarding.
The Albuquerque African Violet Club was formed to promote interest and provide education for people interested in African violets. We meet the second Tuesday of most months at 1:00 at the Albuquerque Garden Center and we welcome visitors!

Tuesday, April 9, 2019
"Last Minute Show Details"
Last minute prep & planning for our:
51st Annual Judged Show & Sale

"Violets: Treasures of the Earth"
Saturday, April 20, 2019
2:00 pm - 5:00 pm
and
Sunday, April 21, 2019
10:00 am - 3:00 pm
at the
Albuquerque Garden Center
10120 Lomas Blvd NE
Albuquerque, NM 87112


AVSA's 73nd Convention & Show
"Violet Fun in the Texas Sun"
May 26 - June 2, 2018

Houston, Texas


Information on the convention can be found at:
http://avsa.org/conventions-2019
AVSA's 70th Convention & Show
The convention came,
and went,

and it was AWESOME!!!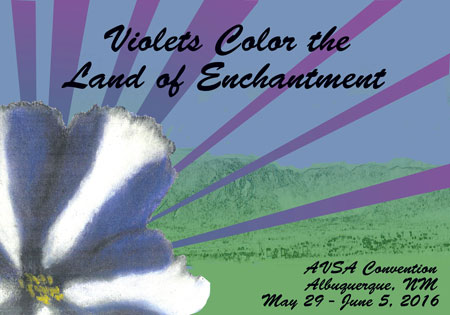 AVSA's 70th Convention & Show
"Violets Color the Land of Enchantment!"
May 29 - June 5, 2016
Crowne Plaza Hotel
1901 University Blvd NE
Albuquerque, NM!!! <----------------------------------------------------------

Find us on Facebook:
www.facebook/com/AlbuquerqueAfricanVioletClub


If you would like to be on our events emailing list, please email us at albqavc@albuquerqueafricanvioletclub.org and we will be sure to include you in our next mailing.