African violets have long been the favorite of all houseplants. Their seasonless blooming adds beauty to our lives and their ease of care make growing them rewarding.
The Albuquerque African Violet Club was formed to promote interest and provide education for people interested in African violets. We meet the second Tuesday of most months at 1:00 at the Albuquerque Garden Center and we welcome visitors!


Tuesday, October 10, 2017

"Speed Dating"
(with African Violets)
This program will consist of three mini talks on different African violet topics.

AVSA's 72nd Convention & Show
"African Violets CAN Link US Together"
May 20 - May 27, 2018

hosted by
African Violet Society of America
and
African Violet Society of Canada

Buffalo, New York


Information on the convention can be found at:
http://avsa.org/conventions-2018
AVSA's 70th Convention & Show
The convention came,

and it was AWESOME!!!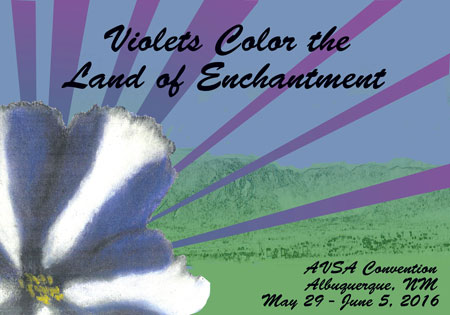 AVSA's 70th Convention & Show
"Violets Color the Land of Enchantment!"
May 29 - June 5, 2016
Crowne Plaza Hotel
1901 University Blvd NE
Albuquerque, NM!!! <----------------------------------------------------------
Many of you know that we aren't having our regular spring show & sale this year we because we will be hosting the African Violet Society of America's (AVSA) NATIONAL CONVENTION here in Albuquerque at the Crowne Plaza Hotel. I can't tell you how excited we are or how hard we're working for this convention! I would like to personally invite you to attend our convention in June!

At convention, you will see African violets like you have never seen anywhere else and have the opportunity to meet some of the best growers and violets from all over our country, as well as other countries (such as Canada, Russia & Japan).

The dates are May 29 through June 5, 2016. Presentations from the experts will be from June 1st through the 4th. The show room and vendor room (yes! African violet vendors will be here from all over the country!) will be open on June 3rd and 4th.

Registration is required to see the presentations and participate in the other events, but the show & vendors room are open to the public for a $5.00 charge.

Information on the convention can be found at:

http://avsa.org/conventions-2016


We have a Facebook page at:
https://www.facebook.com/AlbuquerqueAfricanVioletCluhttps://www.facebook.com/Avsa-Convention-1524270137814459/

If you have any questions, please don't hesitate to email me.

I hope to see you there!

Regards,
Sharon Shannon, Pres.
Albuquerque African Violet Club

Find us on Facebook:
www.facebook/com/AlbuquerqueAfricanVioletClub


(See some beautiful designs from the 2012 Show)

If you would like to be on our events emailing list, please email us at albqavc@albuquerqueafricanvioletclub.org and we will be sure to include you in our next mailing.